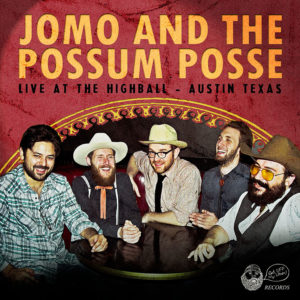 Best known for the wildly popular viral video series, "Guy On A Buffalo," Jomo & The Possum Posse have made a name for themselves with their unique blend of cynicism, dead-eyed soul and anti-machismo honky-tonk. Their cult video series has surpassed 20 million views, garnering national attention from NPR's All Things Considered, Forbes, G4's Attack of the Show, and a slew of major media outlets.
The band is led by Jomo Edwards, who's award-wining lyrics tend to skate the line between the sardonic and the arcane… Jomo can also be heard weekly as co-host of Sun Radio's Behind The Lines – Tuesdays at 8pm and Sundays at high noon.
The band has established itself as one of the most talented, ridiculous and cerebrally entertaining live acts around.
In 2017, the group released a live album, LIVE AT THE HIGHBALL on Get Off My Lawn Records. The album features 18 tracks and captures the energy of the band's live shows.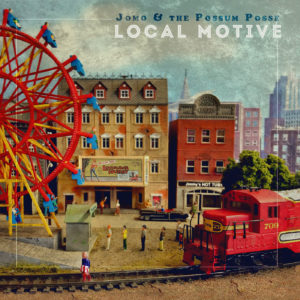 Their latest studio album, "Local Motive" was released in 2016 and skews heavily toward roots rock & roll.
Some stuff people have said about Local Motive:
You really couldn't ask for a better blend of country twang, fiddle, electric guitar, and band camaraderie…On Local Motive, you feel like you should clap and holler at the end of each song. "Girl From Acadiana," "Stick in the Sticks," "The Real Housewives of the West of Us"…there really isn't any standout track to highlight because they are all so fun and fantastic!
– Brenda Hillegas, Elmore Magazine
It's easy to get swept up in Edwards lyrics and overlook the incredible musicianship this band possesses though. With song titles like "Farts Ain't Funny" (a song about undying love) and "Extra Pay" (about expecting a child) it's easy, at first,  to think that Jomo and The Possum Posse are direct descendants of Ray Stevens and his comedy routine repertoire of songs. You'd be mistaken to do so… Jomo and The Possum Posse are funny and witty as hell lyrically and just as solid musically.
– Andy Frisk, Shutter 16 Magazine